Mold
If you suspect a mold problem, you need a mold inspector that has no financial interest in the cleanup.  Many Chicago area companies offer low-cost mold testing, which gets their foot in the door for expensive and potentially unnecessary mold remediation.
We recommend hiring a mold testing company that has no financial interest in mold cleanup, remediation, and disinfecting products. We have no conflicts of interest, we won't try to sell you anything, and we don't perform remediation.  Any recommendations we make have your best interest in mind. Call (312) 920-9393 to set up an appointment today. We are mold specialists that inspect homes, schools, hospitals, and commercial buildings.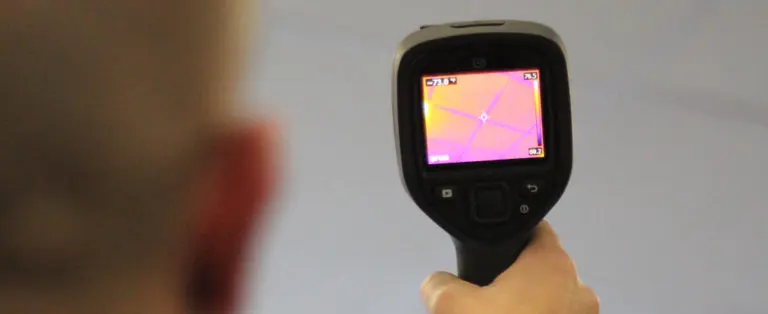 What do our mold inspections include?
What you get with most other mold inspections:
Someone comes out and collects a single mold test inside and one outside as a comparison.  Their total time at your property is around 10-15 minutes. These mold testers will email you the laboratory results with no interpretation.  They will give you no recommendations for corrective measures, or worse, hand you an over-inflated proposal for their company to do the work. They provide a "black mold test" without performing a thorough mold inspection to help you understand why the mold is there and prevent it from coming back in the future.
What you get with an Indoor Science mold inspection:
Our mold inspections go beyond basic mold testing. It truly is an inspection. Our goal is to find any indoor mold growth.  Air samples can be useful, but they do not tell you where the mold is growing.  They also don't tell you why the mold is growing.   We take time to do a visual inspection of the property, which may not be as exciting as mold air tests, but it is the cornerstone of a thorough mold inspection.
We use advanced instrumentation during or mold inspections.  We want to find the underlying moisture source, so we use an infrared camera and scan your walls looking for potential hidden moisture sources.  Questionable areas are further investigated with capacitance and resistance-based moisture meters.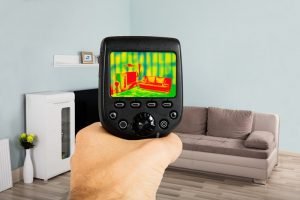 Often we discover a hidden moisture and mold problem that needs to be further investigated, prior to performing a mold test.  We may use a borescope to look inside a wall, underneath carpeting or inside ductwork.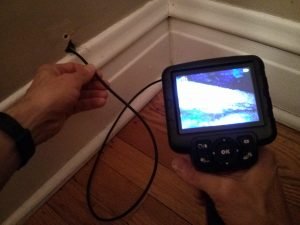 Once we evaluate the problem, we can recommend the best places to collect samples, if any.  For example, if we find a discoloration that appears to be mold growth, we may collect a surface sample for confirmation and identification of type.  Surface samples collected may include tape-lift, swab or bulk tests, depending on field conditions.
Air samples may be collected under normal conditions, or with the air disturbed.  We may also recommend inner-wall sampling, also known as "wall check" sampling, which collects air from behind drywall-based walls.  We use primary calibration equipment for expert level results.  Most mold testers use a simple rotameter that can have a large margin of error.  In fact, most mold inspectors don't even calibrate their equipment!
Besides air samples, we may take surface samples (tape lift and swabs), bulk samples, mVOC air tests, or ERMI tests on settled dust. We establish a sampling plan based on what we identify during our inspection, taking into consideration your budget.
Whereas other mold testing companies only hand you a laboratory report, we actually help you interpret the results of the mold tests.  The terms Stachybotrys, Penicillium, Aspergillus and Cladosporium probably don't mean anything to you.  However, each of those tells us volumes about what is happening in the property.  We will explain what is happening in layman's terms so you understand the findings.
Our mold inspections are supervised by a certified industrial hygienist (CIH).  Although many other companies call themselves "industrial hygienists", they probably do not have a Certified Industrial Hygienist on staff to review all technical work.
Finally, we pride ourselves on providing you with recommendations that have your best interest in mind.  Most companies either provide no recommendations or provide you with an expensive proposal for their company to do the remediation work. Why is that a conflict of interest?  We have seen way too many companies recommend $10,000+ of remediation when there wasn't even any mold discovered! Because you can't see mold spores, many unscrupulous mold testers fabricate a problem to profit from the remediation work.  Skip all these shenanigans and give Indoor Science a call today.
What Sets Us Apart?
If you search online for black mold testing, mold experts or home mold check, you'll come up with a long list of companies that offer an assortment of mold services.  Many of these companies send out technicians without a formal science education and no ability to solve problems– they just know how to collect samples.  Many companies have been around for just a few years, whereas we have been around for over 25 years!
When do I need a mold inspection?
Not every home, office, or business needs to have a mold inspection. Here are some situations that may benefit from having a mold inspection:
Visible mold growth is discovered
A musty odor is smelled
Building materials have been wet for several days
Water stains are found
An occupant has been diagnosed with mold allergies and they experience allergies within the space
Someone with a past history of mold or moisture problems will occupy the space
Condensation is regularly found on cold surfaces
There is a real estate transaction involving someone sensitive to mold
A home inspector has flagged moisture and mold problems
The air inside an office building feels and smells damp
A basement or below-grade floor has flooded or experienced seepage
According to the CDC, more than 75,000 people are hospitalized in the U.S. every year with fungal infections. At least 7,000 people died in 2021, up from just 450 in 1969. Aspergillus, a common mold found indoors, is the culprit in roughly one fifth of mold related hospitalizations and
We provide customized pricing for each project we perform. The first step is providing us with some background information.